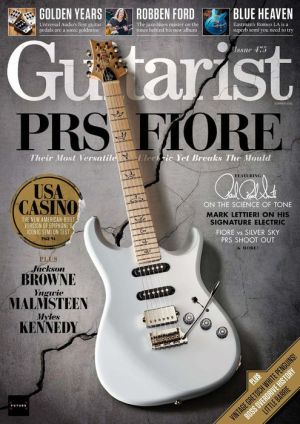 Guitarist
NOOK Magazine (Subscription)
Subscription £2.49 per month (Delivered: Monthly, 13 issues/year)
Save 26% off single issue price
New issues are instantly and automatically delivered to your NOOK library the moment they are available
14 days free trial available for new subscribers Learn More
Note: This product features enhanced content and may take a few minutes to download.
Current Issue: April 2014
Current issue available until 04 April, 2014
Overview
Every issue of Guitarist features world-first reviews and group tests of electric, acoustic and bass guitars; amps and guitarists' gear.

Guitarist boasts the highest quality writing and photography, with unrivalled artist access for in-depth interviews with guitar heroes.

There is a whole host of technical Q&A and 'How-To' guitar techniques, lessons, tips and tricks.

It doesn't matter what your age or ability – if you love guitars, you'll love Guitarist!
Continue Reading
Show Less